Technical information
each watch without nickel and according to the RoHS regulations,
plating is 1 micron thick in case of gold plated or silver plated watches,
set up buttons are stainless steel, bands are either stainless steel or aluminium,
watches with one hand and 12 machinery,
steeled case watches are delivered with scratch free glasses,
most of the 3 hands models can be ordered with date display (up to the model it cost on average 1,50 - 2 eur extra),
our prices do not include special wrapping (bubble wrapping included in our price).
Components
Case
Stainless steel - each stainless steel case is made from high quality and durable 316L raw material. Plating is bronze IPS - lifetime is 2 years on average, depending on different wearing (mode and frequency of wearing, weather, humidity, temperature etc.). Alloy with IPS plating - lifetime is 1,5 - 2 years on average, depending on different wearing (mode and frequency of wearing, weather, humidity, temperature etc.).
Case back
Stainless steel. Screwy technology used in case of 10ATM waterproof models.
Band
Aluminium and stainless steel.
Movement
Watches mostly include Japanese movements (Seiko, Citizen) being distributed by watch-promotion.com, expect for some models.
Hands
More than 90% being supplied by the market leader vendor (BUI CHUN WATCH HANDS).
Battery
Produced by either Sony or Maxell.
In Citizen machinery the lifetime is 2 - 3 years.
In Seiko machinery the lifetime is 1,5 - 3 years.
Band
Each leather band is Italian (in case of stainless steel case) or cattle leather from the Far East. Lifetime is long years depending on wearing and storage (mode and frequency of wearing, weather, humidity, temperature etc.).
Stainless steel bands are produced from brief, high quality and durable 316L raw material.
Quality and testing
Watches are tested before delivery:

Waterproof test: watches are tested under pressure by waterproof verifier machinery
Functioning test: through 24 hours before delivery
Dropping test: 2 times
Stainless steel band test: by special vibration machinery
Warranty
2 years guarantee applicable for each watch due to production and material's failure being occurred already at the time of delivery. Failure will be repaired free of charge. If it is not possible than a same or similar watch will be replaced.
Guarantee is not extended to:
- Failures resulted out of natural wearing (scratched glasses, colour and/ or material change of not metal bands),
- Lifetime of battery,
- Any sort of failure that resulted out of negligence, accident (bumping, denting, mashing, breaking),
- Any sort of indirect or effected damage that is resulted out of unpunctuality, failure or non-functionality of the watch. Any further claim will be rejected expect for those which are entitled by Customer's legal right against the Manufacturer.
Prevention
Temperature
Avoid sudden temperature change (diving into cold water after having strong sunlight) or avoid extreme temperature (above 60C or under 0C).
Magnetic fields
Do not put your watch near by magnetic fields ie. Megaphone, mobile phone, computer, refrigerator, or any other electromagnetic appliance.
Dangerous materials
Avoid direct connection with the following materials: solvents, detergents, perfumes, cosmetics any other chemical products that can damage bands, cases or gaskets.
Wearing under water
In order to preserve waterproofing please do not set up time/date in water or in wet condition.
Maintenance
Clean the case and the band regularly with soft linen in order to prevent corrosion resulted out of sweating. Each waterproof watch can be cleaned with toothbrush and soap water and then can be dried with soft linen. If watch was worn in sea than it shall be washed in sweet water afterwards and than let it dry out completely.
Water resistance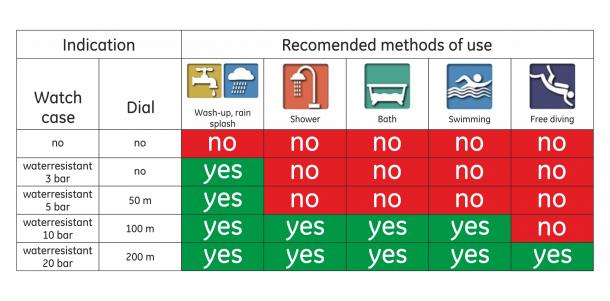 "We have been searching for such a present to reward our employees which is personal, valued and useful. Such an article which can be worn proudly and at the same time demonstrates that the owner is honoured by his company. These watches meet all of those expectations."
Ms. Erika Sas
communication manager
Alcoa-Köfém Ltd.
"Customers require more and more creative ideas. General catalogues on the market are weaker and weaker. Customers don't see them up to date. They expect something new. But there are new ideas on the market! My Customers are always delighted to review the watch-collection.eu collection. It makes my life easier as I can offer it for many present giving situations. The real proof of my Customers' satisfaction is the increasing orders. The watch is eternal, such as the time shown by it."
Mr. Csaba Bubera
general manager
After8 Ltd. (gift trading)
"I wanted to appreciate our partner's cooperation for the whole year with a special present. I wanted to give such a gift that can be used for a longer term and in a meantime our company would be presented. I have chosen watches. I have made an observation: during a day I look at my watch 12 times. This is not bad at all!"
Mr. Szabolcs Fonyó
Managing Director
Pencom Technika Ltd.
"We could give a special surprise to our employees with an assistance of watch-collection.eu. These watches could not be afforded by many of our colleagues. With company logos we can provide better gifts than with a simple present. Thank you for them and wish you all the best!"
Mr. Flórián Lukács
Engineer Manager
Tiszatextil Ltd.
"As a subsidiary of Continental Hungary Ltd. our company operates a tyre franchise network with more than 200 partners in Hungary. As a part of our autumn campaign we have invited for a competition for our partners to sell tyres with full warranty. The prize of the campaign was an exclusive Seiko watch. Our partners were delighted to get this unique watch from us."
Zsuzsa Szabó
FSG Hungária Ltd.
"We have gifted our Partners with 1 model of the collection as they see our Company logo during wearing. We have chosen watch-collection.eu because they have a wide variety of collection and imprinting of dials that is rarely available on the market however it has the real marketing value. We have been given an excellent and flexible service by watch-collection.eu."
Mónika Varga
Communication coordinator
Bayer CropScience
"We wanted to surprise our Employees with an exclusive and practical present for our company's 15th birthday. We were satisfied either with the quality of watches and the joint services. Friendly prices, good work and diligent customer service has been provided by watch-collection.eu."
Éva Wernitzer
Marketing manager
ProgEn Ltd.